Cotran KC80 Raw Rubber Self-Vulcanizing Waterproofing Tape
It is used for waterproofing in cable connections, as well as for sealing the connection of cables with other devices (antennas, filters, amplifiers, base stations). Made from ethylene propylene rubber (EPR) and butyl adhesive mastic. Due to its chemical composition, the tape has the property of self-vulcanization, which leads to the formation of a continuous sealed rubber coating, without separation of layers. The high degree of elasticity and stretching of the tape allows it to follow the shape of the sealed joints well. Also, the tape has a high degree of adhesion to copper, aluminum and cable protective sheaths. KC80 has excellent waterproofing performance and temperature stability at 90°C and can withstand operating temperatures from -55°C to 130°C.
Features
Electrical isolation: up to 1000 V
Width: 51 mm
Thickness: 1,65 mm
Length: 3 m
Tensile strength: 1,29 MPa
Material: ethylene propylene rubber (EPR) and butyl adhesive mastic
Dielectric strength: 26,5 kV/mm
Elongation at break: 970%
Permissible heating temperature: up to 130°
Resistant to UV radiation, ozone, xenon
Corrosion resistant
Instructions for use
Cotran KC80 Waterproofing Mastic Tape should be applied overlapping until the desired level of insulation is achieved.
Step 1. Before winding, make sure that there is no dust at the connection point. To facilitate subsequent possible disassembly of the connection, it is recommended to apply a layer of KC63 electrical tape before sealing the joint of the waterproofing mastic tape.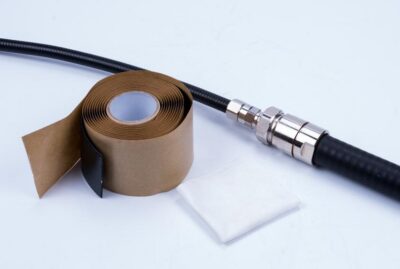 Step 2 Remove the backing paper and stretch the tape 1-2 times its original length, overlap the tape, applying a layer of mastic to the joint. It is not recommended to stretch the tape more than 4 times from its original length.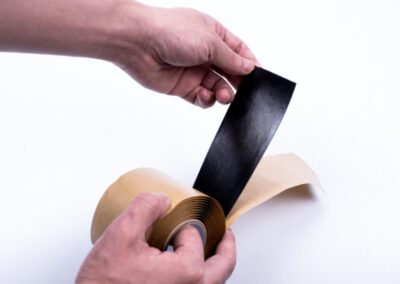 Step 3. Make sure there is 30mm to 50mm of waterproofing tape on both sides of the connection area.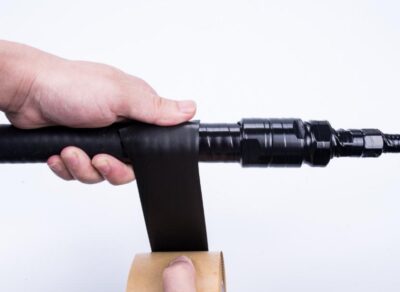 Step 4. After applying the KC80 waterproofing mastic tape, it is recommended to wind the KC63 insulation tape. It is recommended to apply 3 layers of KC63 insulating tape in a 50% overlap without tension. Be careful not to overtighten the PVC tape during installation.